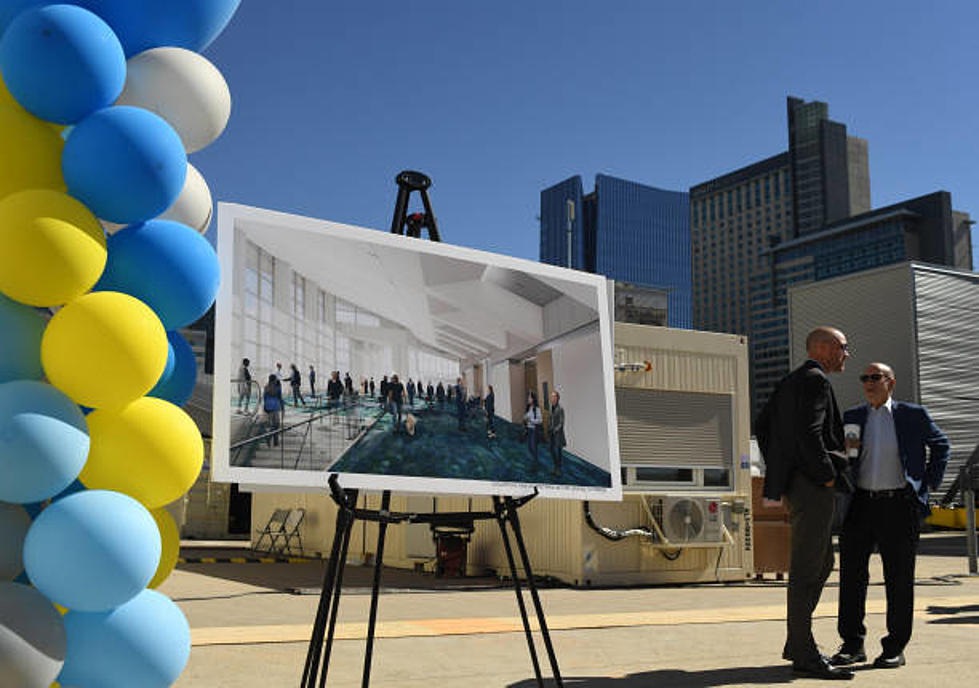 And We're Off: $233 Million Colorado Convention Center Expansion Project Officially Begins
Denver Post via Getty Images
After years-long anticipation and a series of delays, the $233 million expansion project at the Colorado Convention Center is officially underway.
According to the Denver Business Journal, the project includes the addition of a brand new 80,000 square-foot ballroom for the downtown building, a 50,000-square-foot rooftop terrace, as well as extensive pre-function space and upgraded technology throughout the building.
When all is said and done, the project will reportedly add about 250,000 square feet to the current 2.2 million-square-foot convention center.
On Wednesday (Sept. 22), Denver Mayor Michael Hancock and other officials on the project got together on the roof of the convention center's parking deck to celebrate the commencement of the construction, which is slated to be complete by 2023.
"We should not and cannot take this for granted. Not a lot of cities are able to celebrate these moments today," Hancock said, acknowledging that lower-than-national average COVID-19 rates in our area are what ultimately paved the way to hold an in-person ceremony to kick off this project.
"Today represents a lot of things to a lot of people, not the least of which is Denver's commitment to recovery."
Financial Impacts
Visit Denver, the city's tourism and visitors bureau says the COVID-19 pandemic cost the convention center more than 800 meetings and the city, its hotels, restaurants, and other businesses an estimated $1.2 billion in combined economic impact.
Fortunately, several key events have made their comeback to the convention center in the last few months - such as 'Play Ball Park', a portion of the Major League Baseball All-Star Game festivities, the Outdoor Retailer Summer Market, and the Sept. 8-11 Craft Brewers Conference, which drew 7,500 attendees, according to the Denver Business Journal.
The downside? This pandemic is not over - and the numerous shows and events that continue to get canceled are proof of this.
The Upside
Visit Denver's executive vice president of sales and services. Rachel Benedick says the expansion of the Colorado Convention Center will allow it to compete to host larger national shows and conferences that don't currently consider Denver or the convention center an option. Benedick believes the expansion - and the potential new opportunities that very well could follow - could provide greater boosts to downtown hotels and restaurants, particularly in non-peak seasons.
The expansion will also provide ample room to host even more events at one time, with separate groups able to book different areas of the newly-renovated convention center.
In addition, Mayor Michael Hancock said during Wednesday's gathering that he expects the planned two-and-a-half years of construction work to create temporary jobs for 2,700, followed by 2,000 direct hospitality jobs once the expansion is up and running.
What's more? The new space should reportedly add $85 million in annual economic impact to a facility that already was generating an economic impact of $600 million to $700 million a year - pre-pandemic.
The End Goal
Benedick says the $233 million, multi-year expansion project isn't just about bringing in larger events - rather, it is also about creating options in order to host multiple events at one time, under one roof.
"It allows us to layer business and have a really consistent amount of business," Benedick said. "We're selling out to 2031 right now and beyond honestly."
The $233 million budget for the expansion was first voted on back in 2015; both city and Visit Denver officials have kept the cost at the level they promised voters in 2015 despite significant construction-material inflation — and without having to sacrifice any of the core elements from the original plan, according to Benedick.
As for events that are currently slated to occur over the expansion period, officials do not expect there to be any type of disruption to events occurring in the convention center over the next two years, as they expect to be able to renovate what is now a rooftop area, even as events occur below it.
10 Tallest Buildings In Denver
$48 Million Aspen Home Has 1,500 Bottle Wine Cellar
Take a look at this newly listed home in Aspen, Colorado that has a 1,500 bottle wine cellar and 30 acres of land.
More From Townsquare Fort Collins