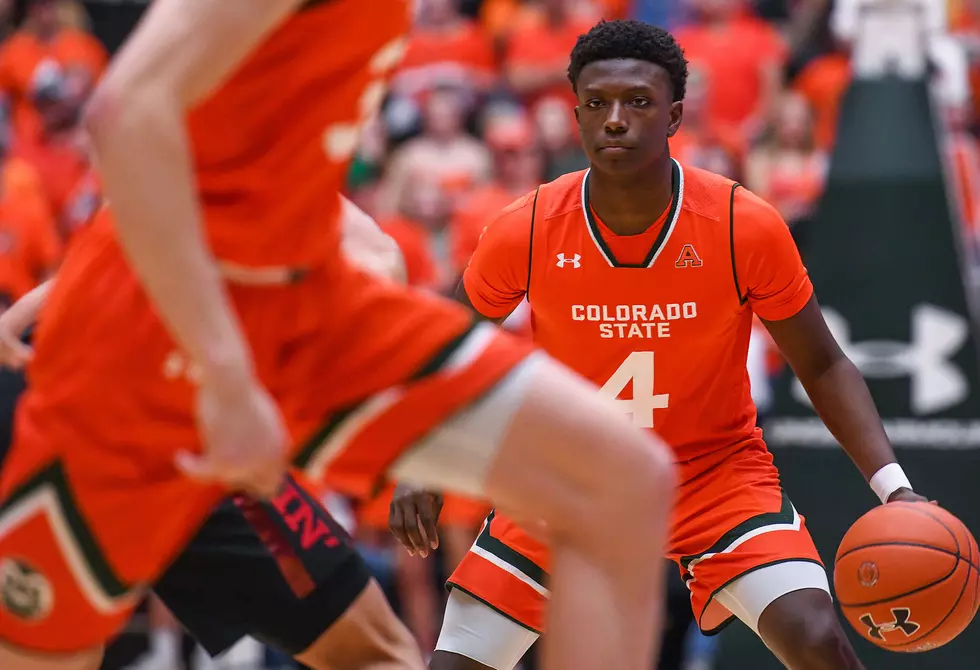 CSU Announces Men's Basketball "Feature" Days For 2021-22 Season
Cris Tiller/CSU Athletics
Who's ready for basketball season?
The Colorado State Rams sure are.
CSU basketball - both men's and women's - kicks off this week with a doubleheader on Tuesday (Nov. 9) with the women taking on Colorado Christian at 5 p.m., followed by the men hosting 2021 NCAA Sweet 16 participant Oral Roberts in Moby Arena at 7:30 p.m.
At the men's game Tuesday night, all students in attendance at the game will be provided with free pizza simply by showing their student ID at the southeast concession stand in Moby; that will begin at 6:30 p.m.
Officials with Colorado State Athletics announced Sunday (Nov. 7) that Colorado State men's basketball will once again have several "feature" days during the 2021-22 basketball season.
What You Can Expect
As per Colorado State Athletics, the season will kick off with a "Rebounds and Touchdowns" special, where fans will be able to purchase ticket packages to cover all home basketball, volleyball, and football games for the weekend of Nov. 12-14.
For just $55, you'll get one general admission ticket to each of Friday's women's basketball and Saturday's volleyball games, an upper-level ticket to both Friday and Sunday's men's basketball games, as well as an upper eastside ticket to the Rams football game against Air Force on Saturday, Nov. 13.
Next, it'll be time to see what kind of talent the Junior Rams can bring to the court -
The Junior Rams basketball program will reportedly take place over the course of two home games this season - Saturday, Dec. 4 against Saint Mary's and Wednesday, Jan. 12 versus Utah State.
On Jan. 28, 2022 the annual Coaches vs. Cancer game will be played as CSU takes on UNLV that same night at 7 p.m.
Then on Feb. 11, the Rams will show off their gratitude and love for the University with 'Commitment 2 Campus Day' and Faculty/Staff Appreciation Day as CSU hosts Fresno State.
In addition, four games throughout the 2021-22 season will include special uniforms; to kick things off, the Rams will honor the state of Colorado with their State Pride uniforms during their first appearance of the year on Wednesday, Jan. 19 against New Mexico.
The next themed game for the Rams will be their game against San Diego State game on Friday, Feb. 4 which will be the night of the annual Orange Out.
The CSU-Wyoming game later in the month - on Wednesday, Feb. 23 - will be a White Out game.
Then, to celebrate Senior Day on Saturday, March 5 against Boise State, CSU will sport their green uniforms at home for their annual Green Out.
Can't wait for tip-off? Purchase your tickets for the 2021-2022 season by contacting the CSU Athletics Ticket Office at 800-491-RAMS (7267), visit their website at csurams.com/tickets or email ramtix@colostate.edu.
And, oh yeah - GO RAMS!
CSU Rams Fans Through the Years
UP NEXT: 10 of the Best Athletes Born in Colorado
More From Townsquare Fort Collins