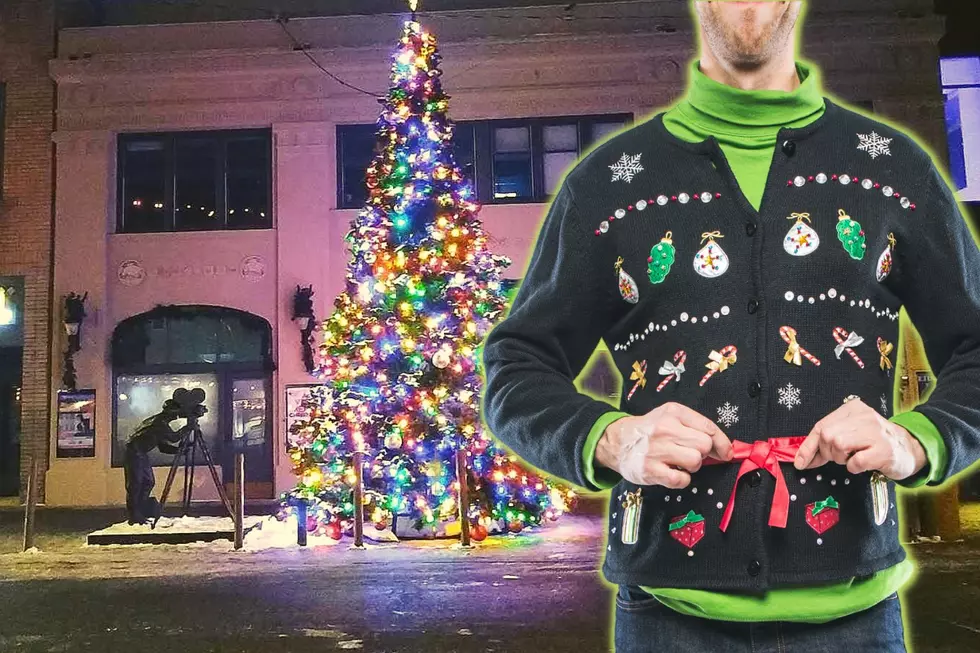 Downtown Loveland Hosting Festive 'Ugly Sweater Bar Crawl' on December 15
Dave Jensen/Canva
As Christmas 2023 draws closer and closer, more and more holiday happenings are taking place, including in Downtown Loveland. For four hours, the streets of Downtown will be bustling with ugly sweaters and fun.
The weather should be perfect for a night in Loveland of donning the ugliest Christmas sweater that you own and and getting out on the town. Show off that ugliness, while enjoying drink specials and hopefully earing bragging rights for the event.
It's the time of year to "let loose" a little bit. Don't let the stress of the holidays get you down, have some fun. This crawl in Downtown Loveland will have you hitting up over a half-dozen bars, some of which you may not have bee into, yet.
Be sure to stop and get a photo by this year's Christmas tree (above) outside of the Rialto Theater that night; it really is something to see. Also be sure to make sure you have a safe ride home, because you're going to be out for four hours, enjoying yourself.
WHAT IS THE EVENT?
Downtown Loveland's Ugly Sweater Holiday Bar Crawl.
WHEN IS THE CRAWL?
December 15, 2022: 6 p.m. until 10 p.m.
WHAT IS THE COST?
This is a non-ticketed event - It's free.
WHAT BARS ARE INVOLVED?
Scripted will be kickoff location for the crawl. They have a great bar and plenty of seating.
Loveland Tap & Tavern is conveniently across from the Rialto and the Christmas tree.
The Flipside is known for its "mixologists" as well as its great games.
A Loveland bar famous for celebrating St. Patrick's Day and Cinco de Mayo will be celebrating Christmas, too.
One of the newest places in Loveland is jumping into the fun.
The Ugly Sweater Holiday Bar Crawl will be a great reason to stop into one of Loveland's most-popular dive bars.
Black and Blues Music and Brews always has great tunes coming OUT of it. Bring your ugly sweater IN.
Let them know you'll be a part of the Downtown Loveland Ugly Sweater Holiday Bar Crawl
The "Ugly Sweater Hall of Fame" at Foothills Mall in Fort Collins
Some of the ugliest "ugly sweaters" were on display in Fort Collins for the 2022 holiday season with the "Ugly Sweater Hall of Fame."
'Do They Know It's Christmas?' Artists: Where Are They Now?
Here's what happened next for the all-star ensemble dubbed Band Aid who released the holiday classic "Do They Know It's Christmas?" in December 1984.
50 Most Popular Chain Restaurants in America
YouGov investigated the most popular dining brands in the country, and Stacker compiled the list to give readers context on the findings. Read on to look through America's vast and divergent variety of restaurants—maybe you'll even find a favorite or two.
More From Townsquare Fort Collins