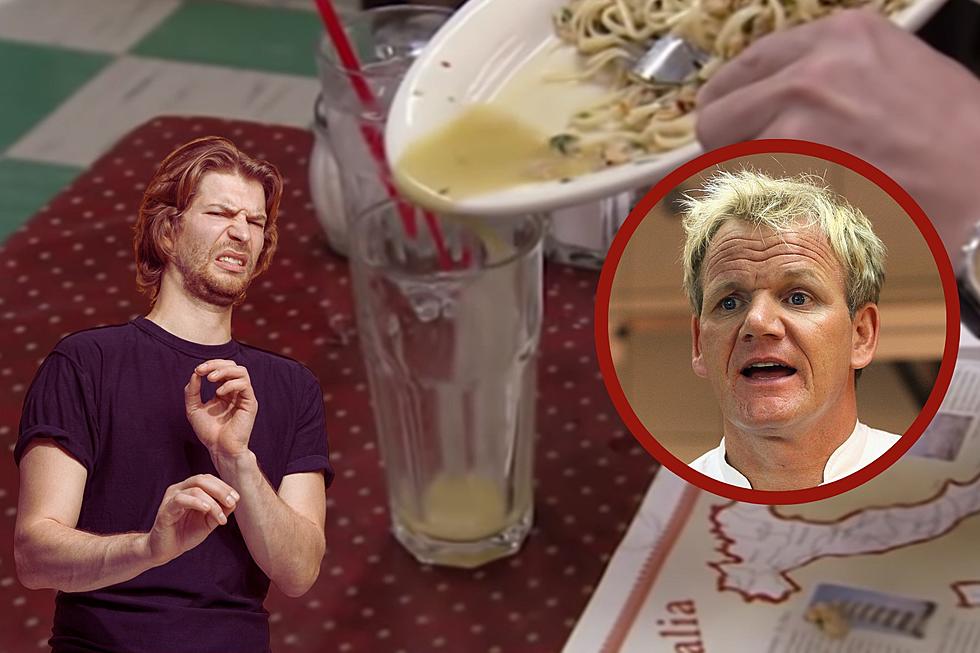 Gordon Ramsay's Colorado Nightmare: The Best Quotes From His Visit
Getty Images // YouTube // Kitchen Nightmares // Canva
Between 2007 and 2014, Kitchen Nightmares was a staple of food reality television. If you've never seen it, superstar chef and host Gordon Ramsay goes to struggling restaurants to try to fix them from certain doom.
Despite the show having several iconic moments, it was canceled in 2014. What was interesting about it was that the show's network, FOX, was not behind the cancellation. Instead, it was a frustrated Ramsay who put an end to his own show. Many of the restaurants he visited would almost immediately throw away all the advice Ramsay would give them, making the process feel taxing.
Almost a decade later, the show is making its comeback on Sept. 25 on FOX.
Gordon Ramsay's Kitchen Nightmares in Colorado
Before we get more classic Ramsay meltdowns in the new season, it is worth looking into the three Colorado restaurants he visited in the show's last season to see who is left standing all these years later.
The Things Gordon Ramsay Said About the Food at Pantaleone's in Denver, CO
Gordon Ramsay's first stop in Colorado was at Pantaleone's in Denver. When he first arrived, it was clear the long-running pizza joint had been experiencing a downward decline for years because of the owner's inability to change.
Here are some of the best quotes Ramsay said about the Denver restaurant:
"It has as much atmosphere as a hospital"
When Gordon first takes a seat and really soaks in Pantaleone's, he quickly realizes how dire the place looks. Only a few items are hanging on otherwise blank walls (including a creepy clown picture), a green and white checkerboard floor, and maybe one plant in the whole establishment. Not a great first impression.
"It's like the pizza that ate Denver"
When he gets a sausage pizza, it is so greasy he hardly even attempts to eat it. He also finds raw dough in the crust when he goes in for a closer inspection. As he confronts Pete, he tells him it is the worst pizza in Denver. Definitely a bad look.
"It's like Pete pissed in my pasta"
After he is served the clam linguine, he pours the excess pasta water into a cup. Even though he is disgusted, it almost seems like he takes a sip for some reason. Strange behavior, Gordon.
Where is Pantaleone's Pizza Now?
Though Gordon Ramsay has tried to help these restaurants, only 16% of restaurants that showed up on Kitchen Nightmares are still open to this day. Again, it is worth noting that in many cases, Gordon Ramsay's advice usually has been immediately ignored due to egotistical management.
While Pete from Pantaleone's seems to fit the bill, it is actually a rare restaurant featured on the show that is still open today. They seemed to take Gordon's advice when it came to the menu, along with accepting the changes he made to the restaurant's decor with open arms.
You can find Pantaleone's at 2120 S. Holly St. in Denver.
What Gordon Ramsay Said About the Food at The Old Neighborhood in Arvada, Colo.
In the next episode, Gordon made his way to Arvada to check out The Old Neighborhood in Arvada.
The restaurant had a ton of strange decor, including a mannequin they called "Fiona" greeting people as they entered. It set the stage for some classic Ramsay zingers:
"I wouldn't feed that to the f—ing mannequin"
When he tries the barbecue shrimp dish, he takes a single taste of the sauce and immediately spits it out. He also notes that the fly would rather bother him than have anything to do with the food he's been served.
"I got to find out why this is called Yucatan because I don't want to insult those people in Mexico"
Gordon said the Yucatan sea scallops were "dreadful" and had "absolutely no seasoning whatsoever." Not to mention, the only connection to Yucatan is the fact that it has spices in it, which causes a frankly iconic face rub from Gordon.
While the dishes certainly looked subpar, part of me wants to ask Gordon why he keeps ordering seafood in Colorado.
"All I've Done for the Last 20 Minutes is Wash My Hands"
The Old Neighborhood was filled to the brim with old junk. It was so unsanitary that Gordon, at one point, found a mummified mouse next to the cleaning supplies.
Where is the Old Neighborhood Now?
At the show's end, Ramsay does a $50,000 renovation of the restaurant to clean and redecorate it. He also creates a new menu. Despite these changes, the restaurant closed its doors in 2016. While it seemed it was on the upswing by many accounts, the couple who owned the restaurant, Randy and Alexa, said they were $320,000 in debt. Certainly, that couldn't have helped the situation.
Today, the building that used to house the Old Neighborhood is now occupied by The Butchery, located at 7923 Allison Way.
What Gordon Ramsay Said About the Food at Mangia Mangia in Woodland Park, CO
In what is possibly the most insane visit Ramsay made in all of Season 7, he went down to Woodland Park to check out Mangia Mangia. This was an Italian restaurant whose owner, Julie, was quite the hothead. It didn't help that their inexperienced 22-year-old chef, Trevor, was quite aggressive in his own right.
Here's what Gordon had to say on the Colorado "Kitchen Nightmares" episode:
"It's actually thick enough to eat the soup off a fork"
After pulling into the drive-through (yes, a sit-down Italian restaurant with a drive-through), Gordon gets an extremely unappealing cup of soup that's so thick he could eat it with a fork.
"That looks like a pile of defrosted snow with bear s— sprinkled on it"
As one might be able to tell, he was not a fan of how the wild mushroom ravioli looked on the plate. He also immediately spit it out. Makes sense because the chef had never made ravioli before and did not know how.
"The meatballs taste like warm foam"
Again, these were frozen meatballs. The chef used to try to make them himself, but they kept falling apart. Afterward, Julie and Trevor immediately get into another verbal altercation, which has become a staple of their dynamic at this point in the episode.
Where is Colorado's Mangia Mangia Now?
This place was in such bad shape they needed two episodes to resolve its problems. The decor was dreadful, and they microwaved most of their food to Ramsay's chagrin Ramsay. By the end of the second episode, Gordon changed the menu, how the food was prepared, and the decor. It seemed to get positive reviews, but they were not enough to save the restaurant.
In fact, Mangia Mangia closed down in November 2014, only five months after the two episodes aired in April. Reviews were still mixed in the months leading up to its closure. Its old location, 407 E. Grace Ave. in Woodland Park, is now home to a Jimmy John's.
Restaurants Guy Fieri Has Visited In Northern Colorado
Here's a look a the times Guy Fieri has brought his show Diners, Drive Ins and Dives to Northern Colorado.
These 11 Colorado Restaurants Featured on National Food TV Shows Have Sadly Closed
These Colorado restaurants once rose to fame as part of national broadcasts on the Food Network. Sadly, they are no longer in business. Scroll through the photos below to see these long-lost favorite places in the Centennial State.
Colorado Restaurants Featured on 'Diners, Drive-Ins and Dives'
Guy Fieri's popular Food Network television show "Diners, Drive-Ins, and Dives" features restaurants from all over the country, including
Colorado
.
Fieri has raved about several restaurants across the state, giving them exposure on a national platform.
More From Townsquare Fort Collins