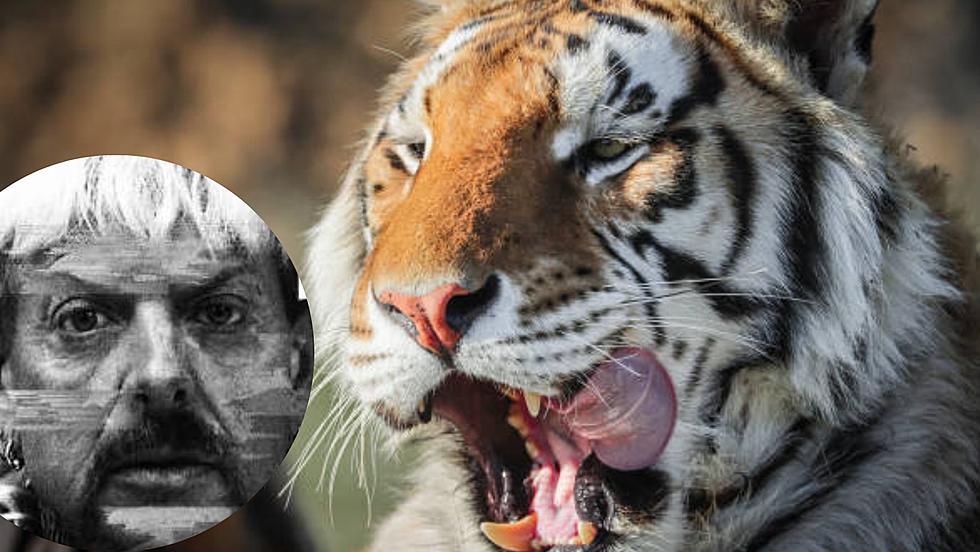 Tiger King Star Gets Reduction On Murder-For-Hire Plot Sentence
Getty Images
The star of Netflix's hit docuseries, Tiger King, has just been granted a reduction on his 20+ year prison sentence.
On Friday (Jan. 28), a federal judge resentenced Joseph Maldonado-Passage, a.k.a. Joe Exotic - who is most famous for his Tiger King role - to 21 years in prison, reducing his punishment by just a year after an appeals court ordered a new sentence.
As reported by the Associated Press (AP) via NBC News, Maldonado-Passage was initially convicted in a murder-for-hire case involving animal welfare activist Carole Baskin.
Both Moldonado-Passage - a.k.a Joe Exotic - and Baskin were heavily featured in the popular Netflix docuseries.
Maldonado-Passage was set to be resentenced earlier this month after a federal appeals court ruled last year that improper guidelines were used during his original sentencing.
On Jan. 3, AP along with multiple others sources reported that Maldonado-Passage had been resentenced after the appeals court found that the court initially applied a prison range that was too high, according to records.
While the appeals court upheld the convictions of the former zookeeper, NBC News says the 10th U.S. Circuit Court of Appeals ruled back in July 2021 that the advisory sentencing range should have been calculated at 17½ years to 21 years, 10 months, not the longer range that was used; Maldonado-Passage's new sentence now falls under those terms.
For more on Joe Exotic's resentencing, click here. 
Did You Know That Many Of Joe Exotic's Big Cats Now Live In Colorado?
In early 2021, 68 big cats were removed by federal officials from a private zoo in Oklahoma.
That private zoo, the Greater Wynnewood Exotic Animal Park in Thackerville, Oklahoma, was run by Jeff and Lauren Lowe - two individuals who also played a large role in the hit Netflix docuseries.
After Joe Exotic, the former owner of Tiger King Park was sentenced to over two decades for his role in the murder-for-hire plot mentioned earlier, Jeff and Lauren Lowe took over all operations at his park.
Tiger King Park was eventually closed under disputed circumstances to which the Lowe's then announced plans to open a new park in Thackerville, OK, right near the Texas border.
The majority of the exotic animals at the Greater Wynnewood Exotic Animal Park were seized last year by federal agents and have since been relocated to Colorado.
RELATED: Exotic Cats Seized From Tiger King Park Now Living At This Sanctuary In Colorado
Located on a 789-acre tract of land in Weld County, the Wild Animal Sanctuary is a nonprofit organization that began housing animals rescued from the Oklahoma park, formerly owned by Maldonado-Passage, since as early as 2017.
The Wild Animal Sanctuary, which also operates the Wild Animal Refuge on more than 9,600 acres in Springfield, as well as the Wild Animal Sanctuary on 41 acres in Texas, currently cares for more than 650 lions, tigers, bears and wolves.
Photos: How Tiger King's Cats Now Live in Colorado
Animals of the Denver Zoo
More From Townsquare Fort Collins