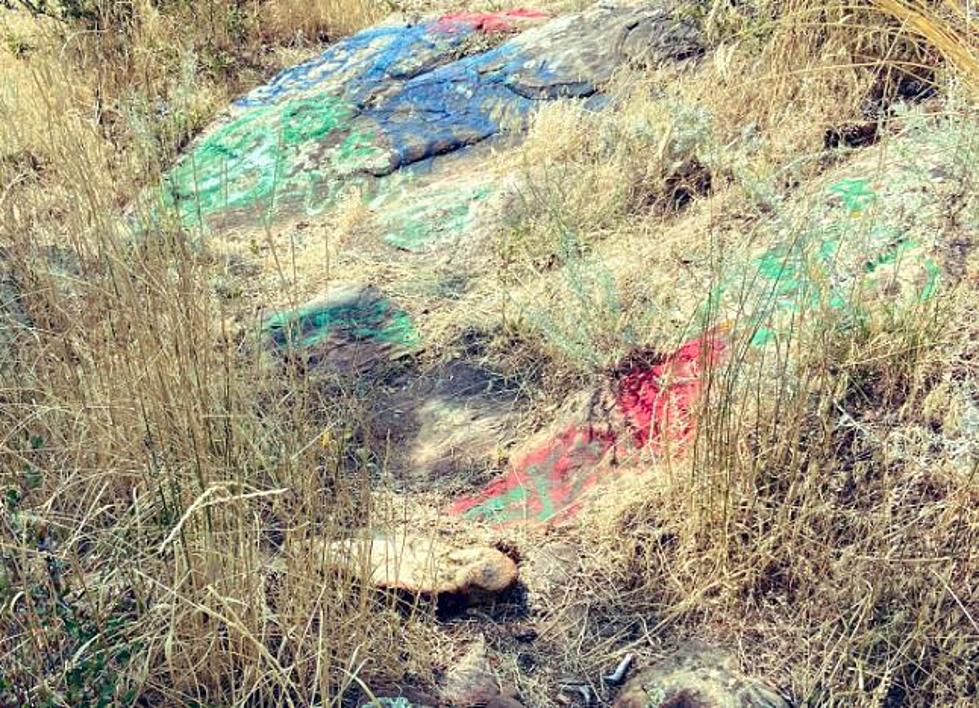 Vandalism or Art? Horsetooth Rock Spray Paint Taggers Strike Again
Poudre Fire Authority, Twitter
In Fort Collins, we all cherish Horsetooth Reservoir. And while there's a time and a place for spray paint art, this ain't it. 
A group of firefighters with Poudre Fire Authority were recently rescue training at Horsetooth Reservoir when they discovered some rocks in distress. Poudre Fire posted on Twitter that they were 'saddened to see such a beautiful area defaced,' reminding everyone who visits Horsetooth to 'please respect the areas we are so lucky to share.'
While some graffiti, when done respectfully, can be artistic, this spray painted rock doesn't look particularly great.
Other areas of Horsetooth Reservoir have been subject to vandalism over the years. In 2015, a ranger suspected that 'high school or college age' taggers were responsible for marking up rocks frequented by climbers. In 2019, climbing forum members shared how upset they were about new spray paint vandalism popping up at Horsetooth, with one commenter saying that 'it's not a bad idea to see who's interested in helping out with whatever cleanup efforts are necessary.'
In 2017, there was the 'Horsetooth Vandal' case, in which the suspect was actually caught after allegedly tagging signs, buildings and dumpsters — but as least not the rocks — the Coloradoan reported.
There's also the '420 Cave' at Horsetooth. And while yeah, it's technically vandalism and just as wrong... admittedly, it does look kind of cool.
So what do you think — good, bad, harmless, trashy?
Horsetooth Rock
More From Townsquare Fort Collins