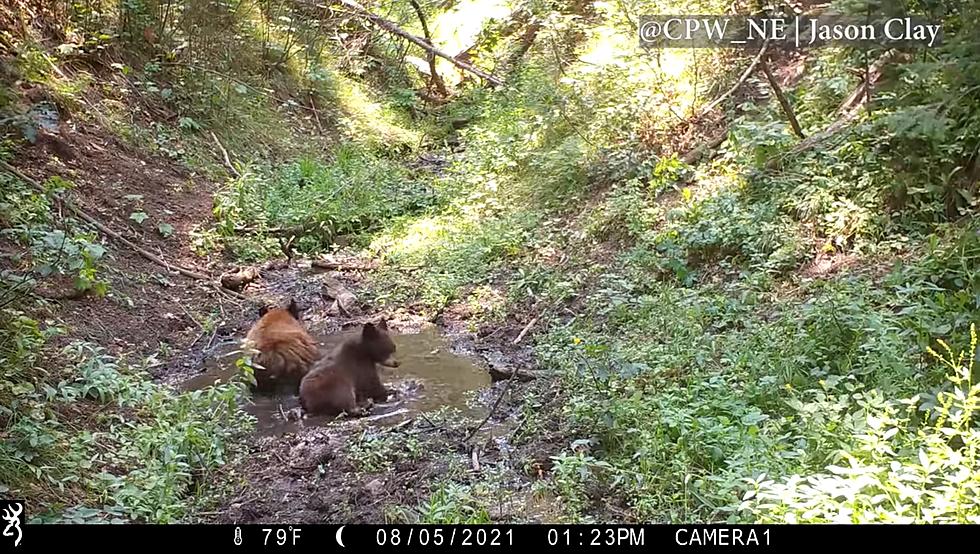 WATCH: CO Bear Family Cools Down In Pond Over Labor Day Weekend
@CPW_NE/Jason Clay
Humans weren't the only ones trying to beat the heat in Colorado over Labor Day Weekend.
If you've been looking for an adorable weekday "pick-me-up", check out the video above of a Colorado bear family cooling down in a pond over the weekend, courtesy of Colorado Park and Wildlife via Denver7. 
According to the National Weather Service, temperatures in the Denver metro area reached a high of 94 degrees over Labor Day Weekend (specifically, on Monday), while the area spent a majority of the weekend in the upper 80s.
What Kind(s) Of Bears Are Native To Colorado?
According to Colorado Parks and Wildlife, black bears are the only bears found in Colorado. Grizzly bears are usually larger and live further north.
As for the black bears, that is solely just the name of the species - not the color of the animal. In fact, many black bears in Colorado are blonde, cinnamon, or brown.
Bear Encounters In 2021
The Denver Post says the number of reported bear sightings and interactions in 2021 are down throughout most of Colorado as the state's drought conditions have improved over the course of the year.
According to Jason Clay, a Colorado Park and Wildlife spokesman for the northeast region, three of the four regions in the state have seen a decrease in bear reports in 2021, compared to 2020 and 2019. "The northwest is the only area this year with an increase", Clay said. 
The correlation between drought conditions and bear encounters: In drought conditions, bears are often forced into populated areas (towns, sometimes cities) in search of something to feast on - and they'll do anything to get it.
Recent Bear Encounters In Colorado
Outsider.com says black bears, which are typically rather timid when it comes to interactions with humans have become less afraid, and more brave and aggressive in their encounters with humans.
Just last month, a black bear attacked an occupied tent filled with campers at the Avalance Campground in the White River National Forest in Silverthorne.
Thankfully, nobody was injured during the encounter.
In another instance, a bear broke into a man's truck in Steamboat Springs and splurged on a bag of Skittles that the man had left in his truck's center console.
Fortunately for the bear, it didn't take much to break into the truck; unfortunately for the Steamboat Springs man, this situation could've likely been avoided if he had just remembered to lock his car doors.
The easiest way to protect yourself and others from foraging bears is to lock your doors and windows in your home and cars, especially while you are away. Also, you should try not to keep food in your vehicle (because, as you can see, even the smallest of treats can be an incentive for a bear to find its way into your car).
If you plan on spending any time in the great outdoors, it would be beneficial to familiarize yourself with helpful tips and information should you ever encounter a bear.
Check out this Outsider article to learn more about how to prevent bear encounters, and what you should do if you ever find yourself face-to-face with a bear.
10 Wild Animal Encounters in Northern Colorado in 2020
Photos: 10 Reminders to 'Leave No Trace' in Colorado
More From Townsquare Fort Collins