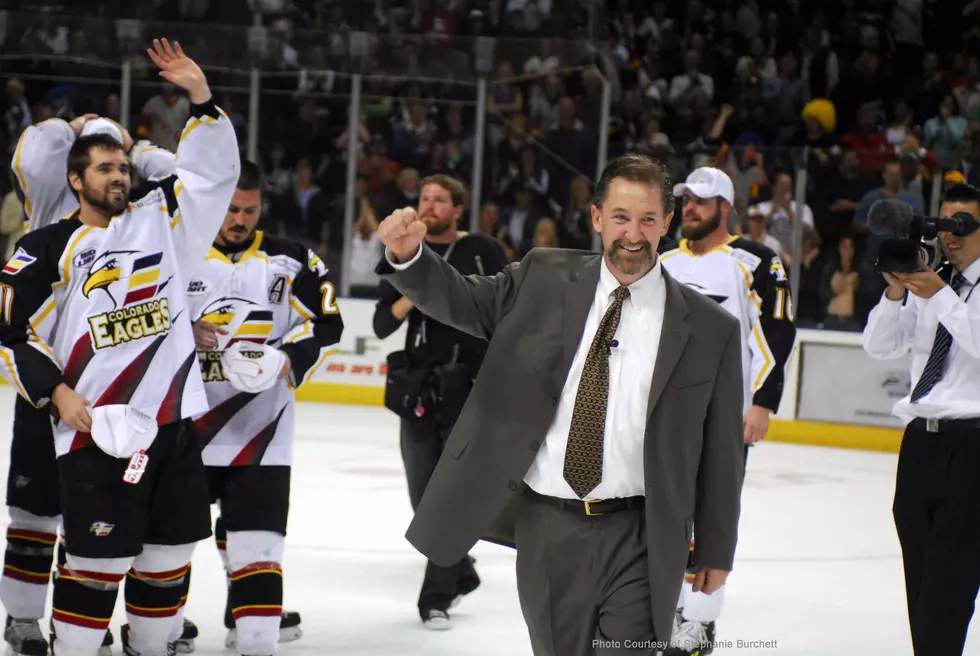 Colorado Eagles GM, Former Coach Chris Stewart Retires
Colorado Eagles
After nearly two decades with the Colorado Eagles, Chris Stewart is retiring.
The franchise's first head coach has been most recently serving as the Loveland-based pro hockey team's President and General Manager.
Stewart spent 37 total years as a hockey coach/front office member.
Stewart's first tenure as Eagles coach from 2003 to 2008 resulted in a pair of Central Hockey League titles in 2005 and 2007. Stewart later returned to the Eagles bench in 2010 and spent a total of 11 season as head coach — making the playoffs in each season.
"One of the greatest honors of my life is to be associated with the Colorado Eagles and this fantastic gentleman," said Eagles owner and CEO Martin Lind in a press release. "We all have an incredible indebtedness to this man for his tenure here and I'm so happy for Chris to enjoy some well-deserved time off."
As a President and GM, Stewart led Colorado to back-to-back ECHL Kelly Cup Championships in 2017 and 2018.
Stewart had this to say about his time in a press release about his retirement:
"These past two decades have been the best years of my life. I will forever treasure the memories that have been made with the Colorado Eagles and even more so, the amazing people that I have met along the way. I look forward to now being able to spend more time with my incredible family, watch them grow and explore the opportunities of this fantastic sport. We will continue to call Northern Colorado home as I move into this new chapter in life and I'm excited to watch the future successes of the Eagles. I would also like to say a special thank you to the incredible fans of the Colorado Eagles. Your passion and support for myself and this team have made it an honor to lead this organization."
Photos: Eagles Coach/Executive Chris Stewart Through The Years
10 of the Best Athletes Born in Colorado
More From Townsquare Fort Collins