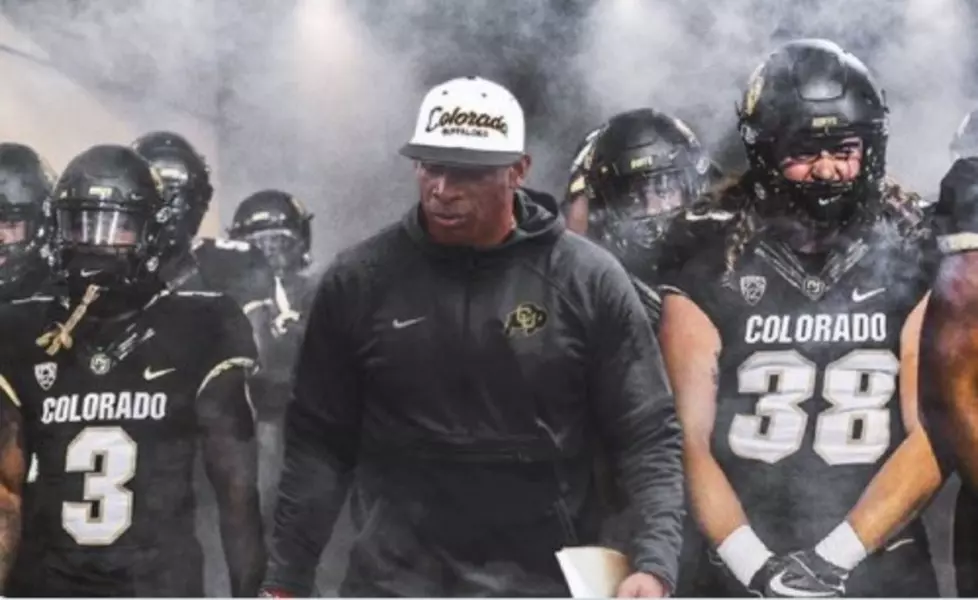 Could The Colorado Buffaloes Be Leaning Towards "Prime Time"?
Twitter/FireThibs
Could Boulder be going "Prime Time"? Well if it's up to the University of Colorado officials the answer is absolutely. It's been reported the University officials have made an offer to NFL Hall of Famer and current head coach of Jackson State University head coach Deion Sanders to become the Buffaloes' next head coach.
Deion Sanders has confirmed that they have indeed reached out but apparently, they're not the only ones. He had this to say in a recent interview with The Athletic:
"They're not the only ones," Sanders added, referring to other head coaching offers he has received. "It would be a lie if I told you they didn't. I know they did, everybody there know they did. So it is what it is."
Sanders has done an incredible job in his time at Jackson State (his 3rd season) a small school in Mississippi reviving a program that was in the dust for many years to an 11-0 mark this year.
Last year, Sanders was named the Eddie Robinson Award which is given to the FCS Coach of the Year. The differences between the FCS programs and the larger FBS programs is this,  FBS programs are allowed a maximum of 85 players receiving athletically based aid per year, with each player on scholarship receiving a full scholarship.
FCS teams, many of which are smaller schools have the same 85-player limit as FBS teams, but are allowed to give aid equivalent to only 63 full scholarships.
The Buffs are coming off one on their if not their worst season ever after going 1-11 this year and the release of Coach Karl Dorrell.
Will Deion Sanders make the leap to the "Prime Time" of College Football and head to a power 5 school or not?
Only time will tell but I will say this, Coach Prime is a great follow on Instagram.
More From Townsquare Fort Collins