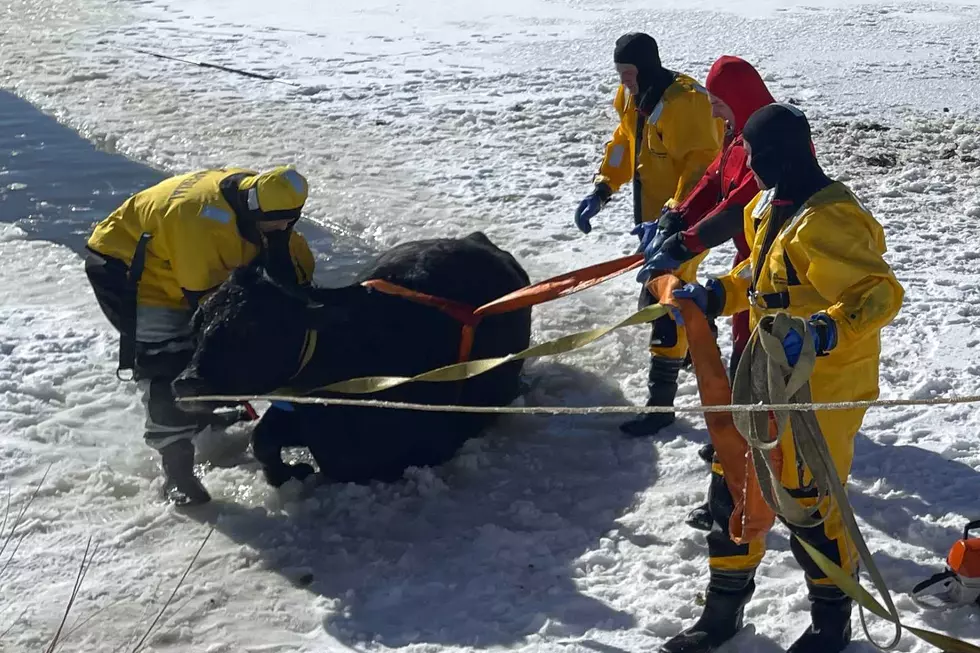 Moo-Yah: Cow Rescued After Falling Through Frozen Colorado Pond
Twitter/Mountain View Fire Rescue
South of Erie and north of Lafayette, Colorado, there lies a pond. On a cold January day in 2023, a cow decided to go for a walk on that pond that was frozen, but not quite  frozen enough.
Technically, it's a reservoir in Boulder County that this cow fell into, Prince Reservoir #2. How about, since she fell into Prince Reservoir, we call this cow, "Princess?" It seems fitting, as she was rescued by "heroic" personnel from local fire authorities.
It would seem that Princess had wandered away from her rancher's herd and made her way over to the reservoir. Perhaps she was just looking for some "alone" time to contemplate life and all that, while out on the water? Whatever her reason, going out on the water turned out to be a big mistake.
It was around 10:45 a.m. that day that Mountain View Fire Rescue received the call. They sent a ladder truck and an engine to the scene. It did take quite a team effort, to rescue Princess after it was discovered she'd fallen into the freezing water. Prince Reservoir #2 is a part of Boulder County Parks & Open Space, and dates back to the late 1800's.
Agencies and others included in the rescue:
A rancher - Princess' rancher?
A chainsaw was used to get through the ice and create a channel. Princess was lassoed by her rancher, and they pulled and coaxed her to the shoreline. All in all the operation took about an hour, according to the Public Information Officer for Mountain View Fire Rescue.
After the rescue, Princess was guided back to  her herd, while probably getting an "earful" from her rancher about the perils of wandering onto frozen ponds.
These Are The Best Lakes For Fishing in Colorado
From a combination of sources, like UndercoverColorado.com and ColoradoOutdoorsMag.com.
14 Lakes Perfect for Paddling in Colorado
Grab the kayaks, paddleboats, or canoes, and hit up these Colorado lakes for fun in the sun!
Watch Ace Pilots Deliver Over 90,000 Trout to Colorado's Alpine Lakes
Ever wonder how Colorado's Alpine Lakes are stocked with fish? Watch these pilots deliver cutthroat trout to lakes in Gunnison and Delta Counties.
More From Townsquare Fort Collins