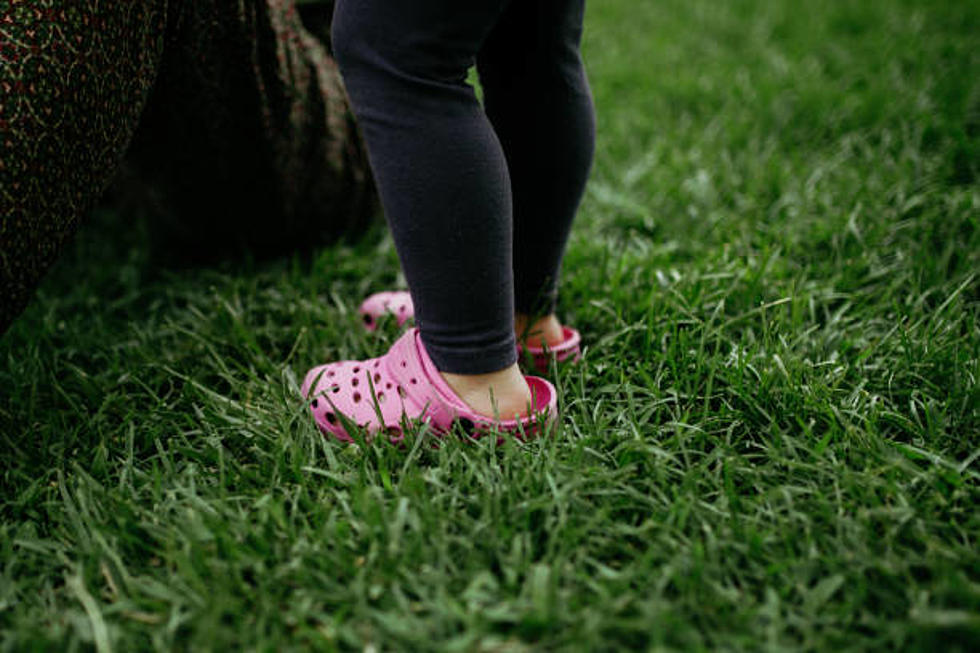 Did You Know the World's Ugliest Shoes Were Created in Colorado?
Getty Images/EyeEm
Colorado, I can't believe it.
For years, I've expressed humorous — yet, very real — hatred over what I consider to be the ugliest shoes in the world.
These shoes have been the talk of the town - what town? Any town - for what feels like forever — particularly the controversial debate around whether or not to like or not like this brand of shoe.
Unless you're living under a rock, you are 99.9%. familiar with these shoes — heck, you might even own a pair. Or five. PS, If you do — slight offense could be taken if you choose to read on).
But did you know these shoes — aka the ugliest shoes in the world — were created right here in Colorado? I didn't, and I'm disappointed to have even stumbled upon this information.
The Origin of the Ugliest Shoes in the World: Boulder, Colo.
To think I used to speak so highly of Boulder — that just might have to come to an end.
According to the brand's official website, Crocs were, unfortunately, created in the heart of Buffs Country.
Founded just 20 years ago (happy anniversary) — in 2002 — Crocs "provide consumers with innovative, fun and comfortable footwear that could be worn for a variety of lifestyle occasions". And I'm just going to draw the line right there.
An Open Letter to Crocs, The Ugliest Shoes In The World
When it comes to Crocs, it seems as though everyone has an opinion — and yes, that includes me. So here it goes.
To whom it may concern,
Do you think your Crocs are cool? Because they're not.
For starters, what is so innovative about a shoe with holes? It doesn't seem like a very innovative — or necessary — concept to me.
I don't know that I've personally ever found a shoe to be "fun," but if I did, Crocs certainly would not be the shoes I'd be referring to — maybe funny looking, if anything.
I guess if you want to want to consider decorating your shoes with plastic charms "fun," you'd be making a valid point - not that I'd agree.
As far as comfort is concerned, I'm not sure how much real comfort you can truly find in a pair of rubber clogs with virtually no support.
I'll admit, I'm no Croc expert, you wouldn't catch me dead wearing a pair. But I must be onto something; Megan Leahy, a podiatrist with the Illinois Bone and Joint Institute once explained the ultimate downside - among many downsides - about Crocs via the Huffington Post, citing their lack of suitability for everyday use:
"These shoes do not adequately secure the heel," Leahy told the Huffington Post. "When the heel is unstable, toes tend to grip which can lead to tendinitis, worsening of toe deformities, nail problems, corns, and calluses."
Oh yeah, really supportive.
When it comes to the argument that Crocs can be worn for a variety of occasions, what occasions are we talking about? Because to me, Crocs might make good house/water shoes - and nothing more.
Now, I am aware that over the last two decades, Crocs has come out with other forms of their original shoe - some that shockingly don't even have holes in them.
Exhibit A:
The other day, I asked my friend, solely for the purpose of this article, to send me a picture of himself in his "going out" Crocs - to which he responds with this photo pictured above.
By going out, he means to dinner, to parties, to formal events... I know this because he's attempted to walk out of the house - with me - in those shoes.
I've said it to his face (don't worry, we're still friends) and I'll say it again - there is no such thing as "going out" Crocs, holes or not - which leads me to my next and final point:
Let's be real, Crocs are certainly not a fashion statement.
So why wear them?
Lucky for you — and for all of us, really — you're entitled to do, say, and wear whatever your heart desires. Yes, that includes Crocs. 
If you're asking me, however, the shoes you choose to put on your feet should never be Crocs. *mic drop*
So, are you a Crocs lover or hater? Sound off our free app!
9 Signs You Know You Are From Colorado
7 Words to Learn to Sound Like a Colorado Native
More From Townsquare Fort Collins