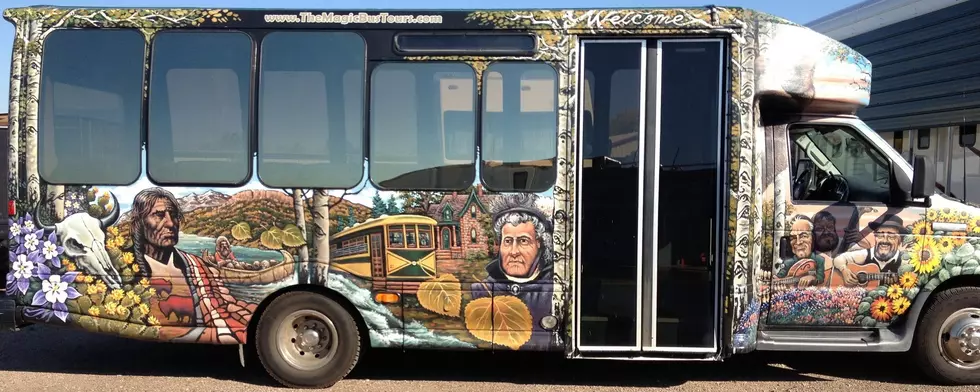 Fort Collins, Say Goodbye To Magic Bus Tours
Magic Bus Tours/Facebook
Fort Collins, CO is about to become a little less magical.
Magic Bus Tours, a unique interactive experience in Fort Collins for locals and out-of-towners alike who seek to discover the city in a fun, educational, and entertaining way will officially be shutting down operations later this year, the Coloradoan reported earlier this week.
About Magic Bus Tours
Magic Bus Tours, the unique tour company born and based in Fort Collins first began a decade ago, back in 2012.
During the company's early days in business, founder Michael Murphy would reportedly narrate the city's history - from past to present - and passengers were whisked around the city in a one-of-a-kind painted bus.
Why Is Fort Collins' Magic Bus Tours Permanently Closing?
According to Murphy, even with an average of 15 tours running weekly during the summer and fall seasons and, despite expanding tour offerings in an effort to attract more riders (i.e; farm-to-fork tours, paranormal tours, behind-the-scenes, educational brewery tours), it is ultimately the irreversible challenges brought on by the COVID-19 pandemic that has left the beloved local touring company in a financial situation that they, unfortunately, have declared they are unable to recover from.
Murphy noted that, even more than two years into the pandemic, there still seems to be a reluctance to gather with strangers around food and drink — "especially in a small, enclosed bus," he told the Coloradoan.
Murphy said he decided to close down Magic Bus Tours about a month ago, with a handful of the company's walking tours still scheduled through the summer.
The Fate Of The Magic Bus - Where Will It Go?
The Coloradoan said that Murphy parted ways with the bus earlier this week, and donated the painting-on-wheels to The Lyric, an independent movie theater, and concert and events space that plans to place it near its main stage and use it as a greenroom for its musicians and performers.
There were reportedly others interested in purchasing the bus, but when it came time to discuss the future plans for the bus, it seemed like every prospective buyer wanted to get rid of what makes the bus so unique and special (the paintings) - except for The Lyric, who he says was "such a natural fit" for the bus.
"The thought of that made me hurt inside," Murphy told the Coloradoan - but he doesn't have to hurt, because the bus has since been sold to the theater, which he says was "such a natural fit".
"It has been an amazing experience and I will forever be grateful to this town and all the people who helped Magic Bus (Tours) become what it did."
11 Reasons Why Fort Collins Is A Great Place To Live
Fort Collins is consistently voted one of the best places to live and there's plenty of good reasons for that...let's go over 11 of them.
25 Fort Collins Restaurants + Bars With Outdoor Seating
It's getting nice out - really nice out.
So g

rab a friend, a family member or hit the town solo and check out one - or several - Fort Collins restaurants + bars that offer outdoor dining.
More From Townsquare Fort Collins