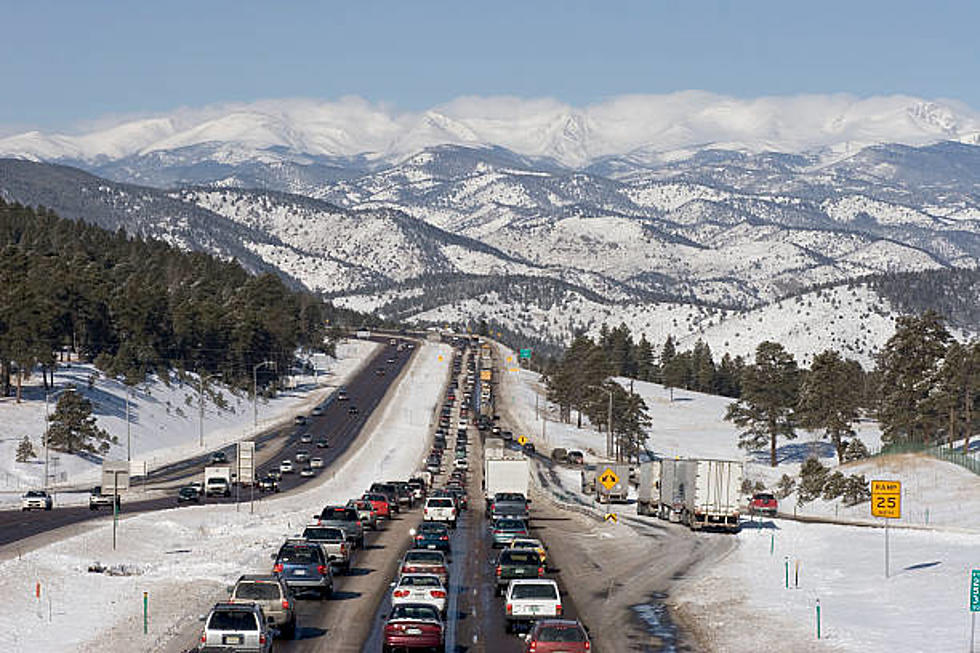 Not Just Your Imagination: It Really Does Suck Driving In CO
Getty Images
Yup, you got that right - driving in Colorado sometimes (ok, a lot of the time) sucks.
Between the constant (and seemingly never-ending) road construction, inclement weather (winter is approaching), rising gas prices, the sole existence of crappy drivers (cmon, you know it's true), and several other nuisances, Colorado drivers just cannot catch a break.
According to a new study conducted by consumer financial services company, Bankrate, driving in Colorado is so bad, we actually rank among the top 5 worst states in the country for drivers.
What The Study Was Based On
In order to find and rank the worst - and the best - states for drivers, the team over at Bankrate used the following four factors as a primary basis to collect data from each state:
Cost - comprised of the average prices for car repairs, gas, and auto insurance in each state. Bankrate's team found that, since overall vehicle costs play factors that heavily affect the average person's everyday life, overall cost factor was weighed in the heaviest in this study (45%)
Safety - comprised using data in regards to DUI arrests, traffic fatalities, seat belt non-use, chances of colliding with wildlife, and motor vehicle theft in each state. This category is weighted equally in the study with driving quality (25%)
Driving Quality - comprised using a list of factors that typically affect drivers on the road - such as road and bridge conditions, average commute times, and average time spent in traffic per year in each state (25%)
Weather - comprised using data in regards to average precipitation and the average number of fatalities in which rain, snow, or sleet were present in each state. This subcategory was weighted the lowest (5%) due to varying weather patterns within each state.
Where Colorado Ranks, And Why
As per the study, our lovely state of Colorado ranked among the worst of the worst places to drive due to high gas prices and auto insurance costs (and they're not wrong).
"Despite being one of the best states in terms of our driving-related weather metrics, Colorado is one of the worst states for drivers.", the study finds.
For starters, did you know that full coverage car insurance premiums are, on average, $342 more per year than the national average? If you didn't know, now you do - and that's nuts.
And as far as Colorado's gas prices are concerned, don't even get me started; In Colorado, the average gas price has gone up more than a dollar in the last 12 months; at this time last year, gas in Colorado cost an average of $2.19 per gallon, according to AAA.
These days, Coloradans are paying an average of $3.51 per gallon at the pump, while gas stands at an average of ten cents cheaper nationally.
READ: Did You Know That You Can Get Gas For Under $3 Right Now In Northern Colorado?
On top of this, the study finds that we Coloradans often have to deal with poor road quality while driving (again, not wrong) and a higher level of urbanized congestion than the national average.
The Good News
The good news? Colorado is not the worst state for drivers, and for the sake of finding something to celebrate, this can be it.
Turns out, there really are worse places to drive in the country than in Colorado; those places include:
Rhode Island 
Maryland
Louisiana 
California (aka the worst state for drivers - according to Bankrate) 
As for the best, Bankrate found that the top 5 states in the country for drivers are:
Ohio - one of the overall cheapest places for drivers 
Iowa - ranked sixth-best for driving quality, fourth-cheapest state for drivers
Utah - ranked in the top 10 best states for safety, driving quality, and weather
Indiana - ranked in the top 10 best states for safety and cost
Idaho -  third-cheapest auto insurance premiums in the U.S
Overall, the study found that the best states for drivers are generally found in the Midwest.
Check out the full study for yourself here. 
The Tiny Towns Of Colorado
In a tiny town, where do you go to shop? Is there anywhere to go out to eat? And, given there aren't many people living in many of these tiny towns, is there even anything to do?
For those select few (and I do mean few) that live in these tiny towns, I have so many questions... the main one being, how do you do it?
From (lack of) population to significant earthquake activity - there are multiple reasons why I, personally, could never live in a tiny town.
Could you?
Maxx Just Drove 2 Hours, But Says She Would Travel Across The Country, To See Her Favorite Artist In Concert - How Far Would You Travel?
If you ask me, I'd travel anywhere to see my favorite artists in concert... as long as my schedule and my bank account allow it, I don't care if the show's 20 minutes away or across the country - I'm going.
How far would you travel to see your favorite artist in concert?
More From Townsquare Fort Collins