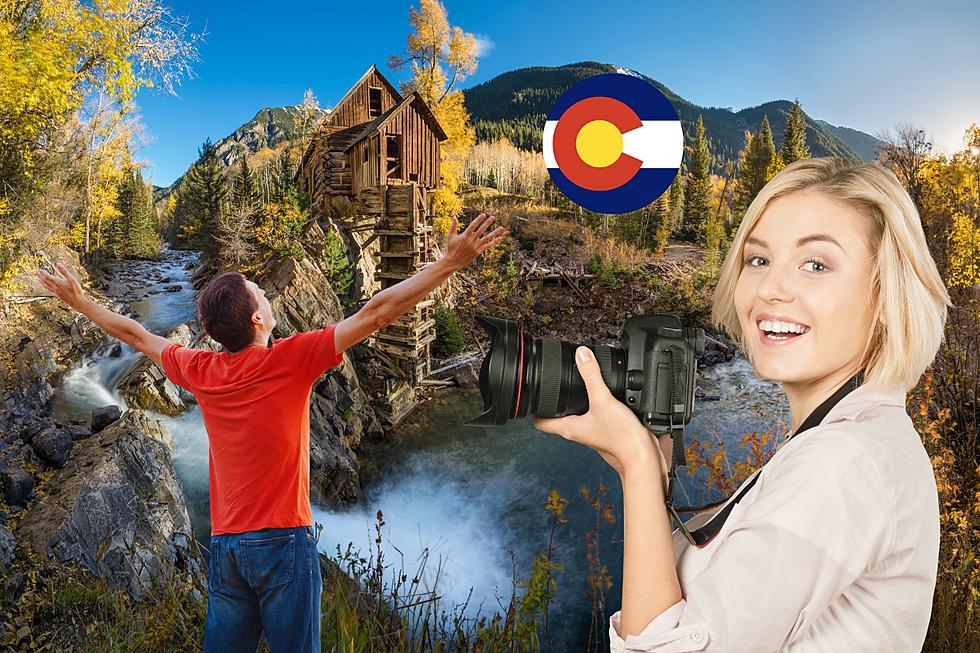 How an Old Building Became Colorado's Favorite Photo Op
Canva
We all love a good photo op while we're going out in Colorado. Whether it's taking in the beautiful landscapes on our countless scenic drives or taking in some insane views on a hike, Colorado has plenty of opportunities for you to snap a picture.
However, one photo op seems to stand tall amongst the rest here in the state. Located out in the Rocky Mountains near the small town of Marble is the Crystal Mill, quite possibly Colorado's most popular spot for photos. A part of the ghost town of Crystal, this old mill has become one of Colorado's most photographed locations over the past few years.
With the fall colors taking over the Rockies as we speak, now is a great opportunity to take a look at the history of the Crystal Mill and why it has become Colorado's favorite photo op.
History of the Crystal Mill: How it Got There in the First Place
Obviously at one point, the Crystal Mill served a role other than being a pretty location for people to point their camera at. It was actually created back in 1893 by the Sheep Mountain Tunnel and Mining Company and its history is deeply tied to Colorado's intense prospecting roots.
At the time, the Crystal Mill was an impressive piece of technology that helped the mining company power their equipment. Unlike how most people think of water mills, this mill used a water wheel on the Crystal River to power an air compressor. This technology was actually able to power the drills in the mines 1500 feet away.
History of the Crystal Mill and Crystal, Colorado: Why the Town and Mill Were Abandoned
The Crystal Mill was created as a further measure to help the Rocky Mountain boom town of Crystal, Colorado. Established in the 1860s, Crystal quickly ascended as a leader in silver, lead, and zinc in the 1880s at a time when the West's population was skyrocketing due to the mining craze. At one point, Crystal was home to about 500 people looking to get in on the action.
Shortly afterwards, the Panic of 1893 rocked the country, which saw the Silver bubble burst after years of unsustainable growth. This was likely due to the end of the 1890 Sherman Silver Purchase Act, which made it so the government had to buy 4.5 million ounces of silver every month to mint new coins. Interestingly, the Silver Panic of 1893 coincided with the construction of the Crystal Mine.
Afterwards, Crystal, Colorado hung on for dear life as profits fell and people began to leave. It did not help that it was basically inaccessible during winters, meaning people could not visit or move during the colder months. The inclusion of the mine was not enough to keep people around, and by 1920, both Crystal Mill and the town it was named after were abandoned for good.
Visiting the Crystal Mill Today: Why is it So Appealing to This Day
Ever since the fall of Crystal, Colorado, the mill has had a second life as one of Colorado's most photogenic spots. People have been shooting photos of it for decades, and in the 1970s and 80s, a combination of grant money and volunteers contributed to keeping the structure intact for future generations to view.
So, what makes the Crystal Mill such an appealing shot for both amateur and professional photographers? Josh Rose for Roadtrippers believed it is because it feels lost in time.
Taking one look at this beautifully preserved structure can easily transport you back to another era. One where the prospect of striking it rich was as simple as hitting the jackpot in a dark and dank mine. Within the dusty halls of ghost towns and abandoned places like the Crystal Mine lies a palpable sense of hope, even if it turned out to be for nothing.
On a more physical level, the Crystal Mill is nestled beautifully above the Crystal River just before it splits off into two forks. In the background is the beautiful mountain scenery of Gunnison County. It's a mixture of these two elements that not only leaves you in awe but can help you understand the roots of the people who used to call the area home.
How Do You Get to the Crystal Mill?
With all of this being said, how can you take a picture of Crystal Mill yourself? Well, after getting off I70, you'll want to take Highway 133 through the Rockies and turn off to get to Marble, Colorado. From there, it is about a 30-minute drive to get to the mill. From there, you can either see the Crystal Mill for free behind a rope or sign a waiver and pay $10 to take a trail that will get you up close and personal.
The Crystal Mill is one of Colorado's favorite photo spots for its stunning beauty. All the while, you can visit a ghost town with a ton of history attached to it. With all of this being said, a visit to the Crystal Mill will reward you with far more than just a gorgeous picture.
10 Colorado Hikes with Beautiful Views that Anyone Can Do
Colorado is loaded with trails that are fun for the whole family. Take a look at 10 hikes anyone can enjoy this summer, each with beautiful views and easy-to-follow routes. At under five miles, these routes won't take all day, and they won't require someone to carry you back to your car.
Gallery Credit: Wesley Adams
The Most Haunted Hikes In Colorado You've Already Visited
A number of popular hikes in Colorado carry with them a secret history. While not commonly known in most cases, hikers have reported ghostly apparitions, disembodied voices, sudden drops in temperature, and "strange energy" at these Colorado locations. Chances are you've probably already been to a few if not all of these Colorado trails.
Gallery Credit: Waylon Jordan
5 Hikes that are Perfect for Colorado History Buffs
These five hikes are perfect for anyone interested in Colorado history. Although they are all different, the trails all lead to a piece of the Centennial State's past.
Gallery Credit: Kelsey Nistel
More From Townsquare Fort Collins