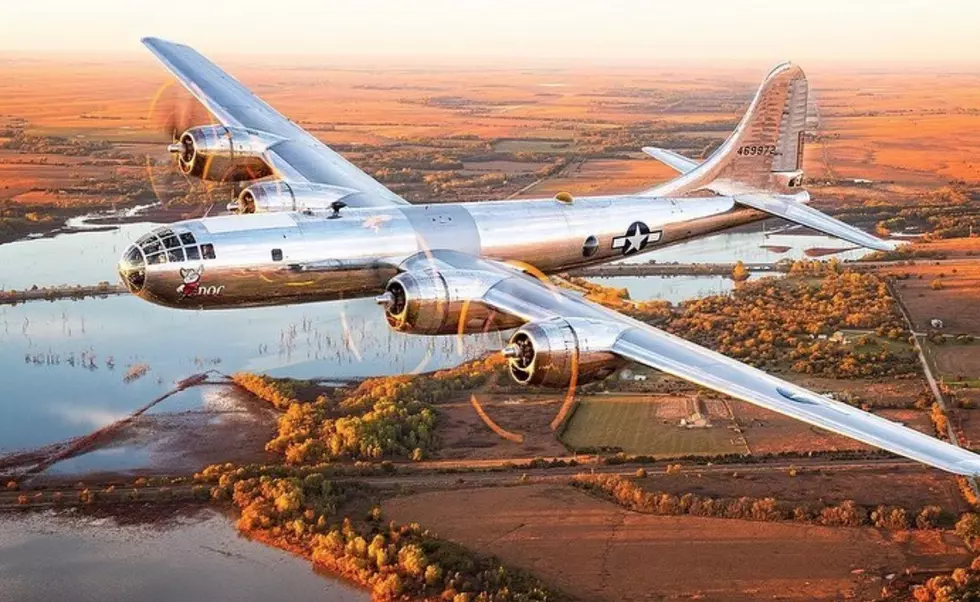 Rare World War II Bomber Coming To Colorado, Offering Tours + Rides
Instagram/@wings_museum
Whether you're a history buff or simply just like cool things - like historic military aircrafts - you'll likely enjoy this.
This weekend, Wings Over the Rockies Air and Space Museum, located on the former Lowry Air Force Base in Denver, CO, will host the B-29 Doc Superfortress along with several other warbirds, according to an Apr. 21 post via the Wings Over the Rockies Instagram account. 
The rare World War II plane will be present from Friday, May 6 through Sunday, May 8 at Wings Over the Rockies' Exploration of Flight campus at Centennial Airport (7565 S Peoria Street in Englewood, CO).
During this time, the historic bomber will be open to the public for ground and cockpit tours as well as rides.
The historic B-29 Superfortress known as "Doc" will be visiting Colorado as part of the B-29 Doc History Restored Tour, according to the B-29 Superfortress' official website.
"This tour stop at Wings Over the Rockies Exploration of Flight will give warbird fans a unique opportunity to see one of only two B-29 Superfortresses still airworthy and flying today," said B-29 Doc Executive Director, Josh Wells, according to 9News.
"Our mission with the B-29 Doc History Restored Tour is to tell the stories of the men and women who designed, built, flew and maintained these magnificent machines that helped deliver victory over oppression during World War II. We are proud to partner with Wings Over the Rockies and Signature Flight Support on this unique event."
In addition to Doc, the museum said guests will also get a chance to view a North American P-51D 'Stang Evil,' Beech SNB-2 'Sonoran Beauty,' North American T-28 'Valkyrie,' North America SNJ-5 Texan, North American P-51D Mustang 'Crusader,' Hawker Sea Fury and more.
For more information about the event, visit b29doc.com.
Here are 5 Places to Hunt for Geodes in Colorado
Here are five places in Colorado to hunt for geodes.
Colorado's Counties Large to Small
We break down all of Colorado's counties from largest to smallest based on land size.
More From Townsquare Fort Collins