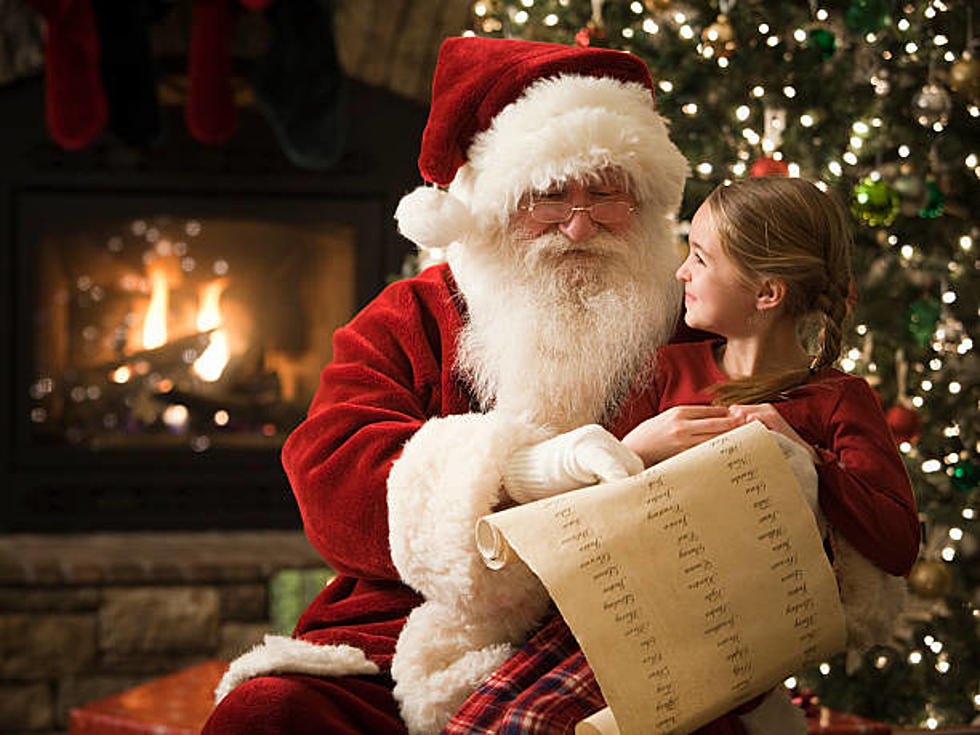 Santa Tours NoCo: Here's When He Will Be In Your Neighborhood
Getty Images
Santa Claus is coming to town (*screams internally*) - and he's coming really soon.
Thanksgiving and the month of November are long gone; it's time to turn our sights to the greatest, most magical time of year - Christmas.
And, here in Northern Colorado, the holiday season is about to get even more magical thanks to a little (okay, big) visit from Mr. Claus himself.
Windsor Severance Fire Rescue is bringing back their annual Santa Tour this year; Santa will be making his rounds around several parts of Northern Colorado between Thursday, Dec. 15, and Saturday, Dec. 17.
He'll be showing up in style, too:
"We've been extra good this year, so Santa agreed to spend a few nights riding around in one of our fire engines to say a special "Hi" to the kids of all ages in our fire district.", Windsor Severance Fire Rescue's website reads.
Although Santa won't be able to hit every neighborhood within the 100+ square mile fire district, the route he'll be taking was created with the intention to get Mr. Claus as close to as many NoCo residents as possible. 
Is Santa coming to your neighborhood? And, if so, when? Find out here  - 
Santa's Route During Windsor Severance Fire Rescue's 2021 Santa Tour
Thursday, Dec. 16: Santa will kick off his tour around NoCo at Rangeview Elementary School - located at 700 Ponderosa Road in Severance - at 5 p.m; from there, he'll begin his route around Severance.
On Thursday, Santa will visit the following neighborhoods:
5:30 p.m. - Outlook
5:45 p.m. - Hunters Crossing
6:15 p.m. - Overlook
6:45 p.m. - Hidden Valley
7:15 p.m. - Lakeview
7:30 p.m. - Hunter Hill
8:00 p.m. - Fox Run
8:15 p.m. - Severance Shores
8:45 p.m - Harmony Ridge/Ridge At Harmony
Friday, Dec. 17: Santa will make his way around the North and West portions of Windsor beginning at 5 p.m.
On Friday, Santa will visit the following neighborhoods:
5:00 p.m. - East Brook, Winter Farm, Greenspire
5:30 p.m. - Chimney Park, Windsor Village 
5:50 p.m. - Old Town, Windsor Main Community Park
6:10 p.m. - Mountain View, Riverbend
6:40 p.m. - Windsormere, Riverbend, Westwood Village
7:10 p.m. - Brunner Farm, Jacoby Farm, Windshire
7:45 p.m. - Ptarmigan 
8:15 p.m - Windsor Highlands, Highland Meadows North
8:40 p.m. - Highland Meadows South
Saturday, Dec. 18: Santa will make his way around the South and East portions of Windsor **note that Santa will begin his tour on Saturday at 6 p.m.**
On Saturday, Santa will visit the following neighborhoods:
6:00 p.m. - Water Valley South
6:30 p.m. - Windsor Village, Water Valley North 
7:00 p.m. - Poudre Heights, Pelican Farms 
7:30 p.m. - Raindance
8:00 p.m. - High Pointe, Steeplechase 
8:30 p.m. - Fossil Ridge 
All the times listed above are estimates as to when Santa will be in each neighborhood, but if you'd like to track him in real-time, you can, using the new Windsor Severance Santa Tracker (linked here).
As per Windsor Severance Fire Rescue, fire trucks aren't as easy to drive as Santa's sleigh might be - since they are harder to see out of - for the sake of everyone's safety, all well-wishers are asked to stay on the sidewalk as Santa passes through your neighborhood.
You can get more information about the Windsor Severance Fire Rescue Santa tour here. 
Get Into The Christmas Spirit By Indulging In NoCo's Best Cookies
We've rounded up the best spots in NoCo for you to satisfy your sweet tooth with a delectable, mouthwatering cookie...(or five - we're not judging).
This $3.5 Million Colorado Mountain home has a Helipad
This Colorado mountain home has a place to park your helicopter.
More From Townsquare Fort Collins