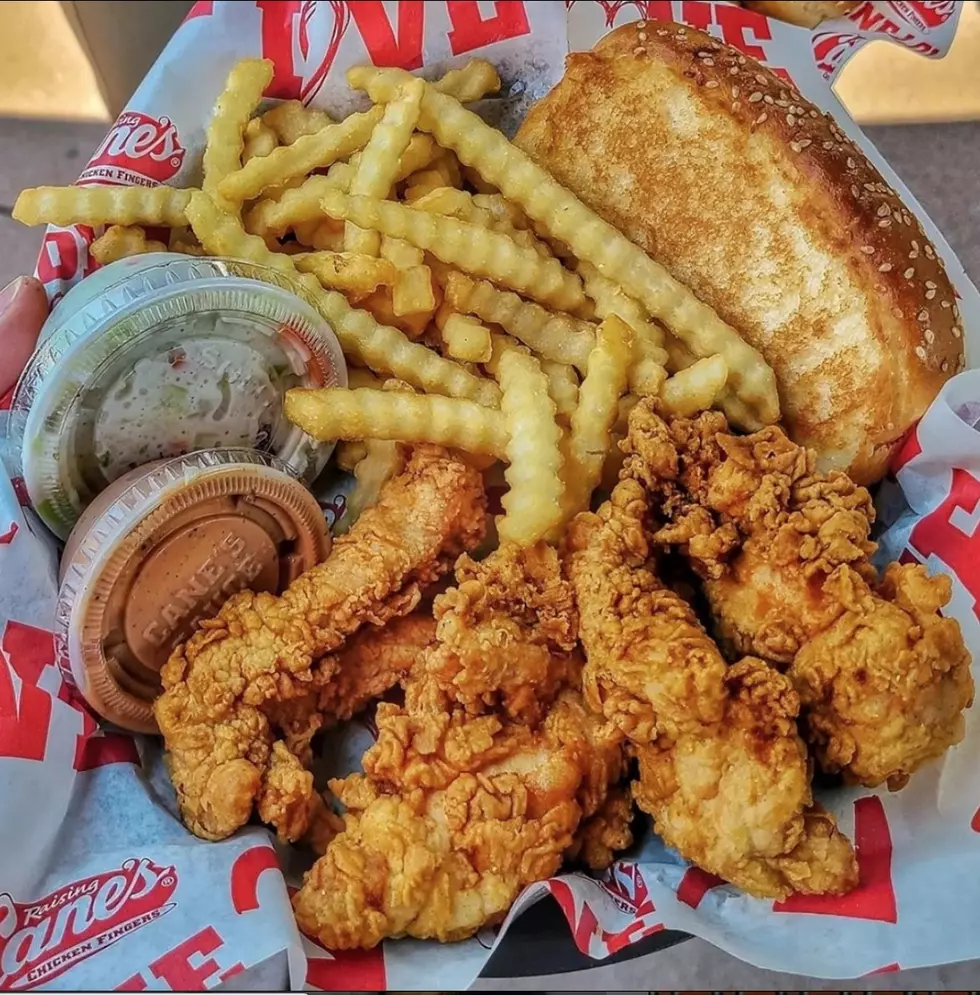 You Can Win Free Raising Cane's For A Year This Week In Colorado: Here's How
Raising Cane's/Instagram
Free chicken fingers (and more) for a year - do I really need to say anything else?
This week, popular fast-food chain Raising Cane's - often recognized for their mouthwatering, rave-worthy chicken fingers and iconic dipping sauce (shoutout Cane's sauce) - is set to open its newest Colorado restaurant.
Where Is Colorado's Newest Raising Cane's Located?
According to 9News, Raising Cane's will open its first-ever location in Lakewood, CO on Tuesday, May 17.
The newest chicken finger restaurant chain will be located at 5060 S. Wadsworth Blvd. in Lakewood, near South Wadsworth Blvd. and West Belleview Ave.
"We're excited to continue our growth throughout the Denver area, and can't wait to start sharing our delicious chicken finger meals with the Lakewood/Littleton area," said restaurant leader Chris Loos, 9News reported.
"We've hired over 100 local crew members and we're all excited to celebrate our grand opening with everyone on Tuesday!"
How To Win Free Raising Cane's For A Year
To celebrate the grand opening of Raising Cane's newest Colorado location, the restaurant will be hosting a "Lucky 20" drawing on Tuesday morning (May 17), rewarding 20 lucky customers free Raising Cane's for a year.
How to enter: 9News says the restaurant will accept customer entries between 8 a.m. and 9 a.m., and will announce the winners at 9 a.m. Tuesday morning.
All participating customers must be present on-site during the drawing in order to win the grand prize.
In addition, the first 100 dine-in customers to order a combo meal during Raising Cane's grand opening on Tuesday will receive a commemorative Cane's t-shirt and box combo gift card to use on their next visit.
Once Raising Cane's Lakewood, CO location officially opens, the chicken finger chain will have 17 operating locations across Colorado.
About Raising Cane's
Founded by Todd Graves in 1996 in Baton Rouge, LA, Raising Cane's Chicken Fingers is quickly approaching 700 restaurants across 35 states (and counting), and in countries like Bahrain, Kuwait, Lebanon, Saudi Arabia and the United Arab Emirates with multiple new restaurants under construction.
Raising Cane's is currently in the process of opening 100 new restaurants across 10 new markets in 2022 alone, including its new Lakewood, CO location.
25 Denver Restaurants Highly Rated On TripAdvisor
Planning a trip down to the Mile High City and don't know where to eat? Look no further.
These are 25 of the most highly rated restaurants in Denver, CO, according to TripAdvisor.
The Best Non-Chain French Fries In NoCo - Here's Where To Find Them
ALL avid fried potato lovers know that not all french fries are created equal - so we've compiled a list of the best of the best, right here in Northern Colorado.
(Warning: reading on may cause serious cravings)
More From Townsquare Fort Collins