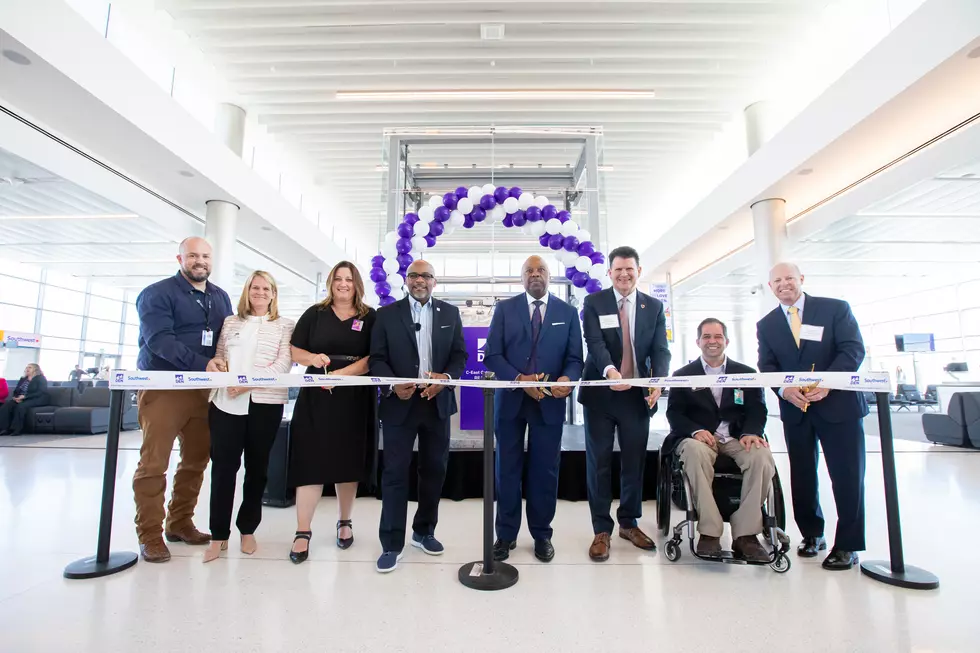 Didn't Think DIA Couldn't Get Any Bigger? It Just Did
Twitter/@DENAirport
If you thought Denver International Airport (DIA) couldn't get any bigger, think again - because it just did.
On Thursday afternoon (May 5), airport team members, along with city leaders - including Denver Mayor Hancock - Southwest Airlines officials and its partners commemorated the grand opening of the east side of Concourse C of Denver International Airport.
According to DIA's official Twitter page (@DENAirport), the latest addition to the airport's concourse features 16 new gates, an outdoor deck, additional seating, charging stations, restrooms, nursing rooms, a pet relief area, and more.
Of the several concourse expansion projects currently underway at Denver International Airport, this particular expansion was the largest; the Denver Post says that starting in the next month or so, Southwest Airlines will begin utilizing all 16 new gates added at the east end of Concourse C as part of the expansion that added 530,000 square feet of space... which translates to the size of roughly nine football fields.
Officials suspect that the addition of 16 new gates, which brings Southwest's total number of gates at DIA to 40 - will allow for significant new traveler capacity in coming years, further confirming that Denver International Airport does, in fact, host the airline's largest base.
In fact, Southwest Airlines spokesman Dan Landson said the airline's schedule out of Denver is set to increase from nearly 230 daily departures now to 250 during the summer and 274 by October 2022.
"The last two and a half years have been exceptionally hard for just about everyone, including those of us in the airline industry," said Steve Sisneros, Southwest's vice president of airport affairs, during Thursday's ceremony.
"But one of the few bright spots across the country was right here in Denver. DEN quickly became our largest operation in the middle of the pandemic as people looked for places that offer quick and easy access to outdoor destinations."
The new 530,000-square-foot expansion which sits on the far east end of Concourse C near Gates C63 to C67 is the largest space commissioned by Denver International Airport since the opening of the Westin Hotel and Transit Center back in 2015.
"Denver International Airport is our region's and Colorado's largest economic engine, and these investments are critical to keeping that engine running to support our entire city and state," Denver Mayor Michael Hancock said on Thursday, according to 9News.
"These new gates will bring more flights, jobs, and economic opportunities to our region, while making even more destinations accessible for our residents, and making Denver even more accessible to travelers from around the world."
25 Denver Restaurants Highly Rated On TripAdvisor
Planning a trip down to the Mile High City and don't know where to eat? Look no further.
These are 25 of the most highly rated restaurants in Denver, CO, according to TripAdvisor.
7 Things To Appreciate About Fort Collins After Going To Denver
Northern Colorado isn't perfect, no place is perfect but we have it pretty good here and after spending a lot of time down in Denver over the past several weeks, here are a few things that I appreciate that much more about living here in NoCo.
More From Townsquare Fort Collins