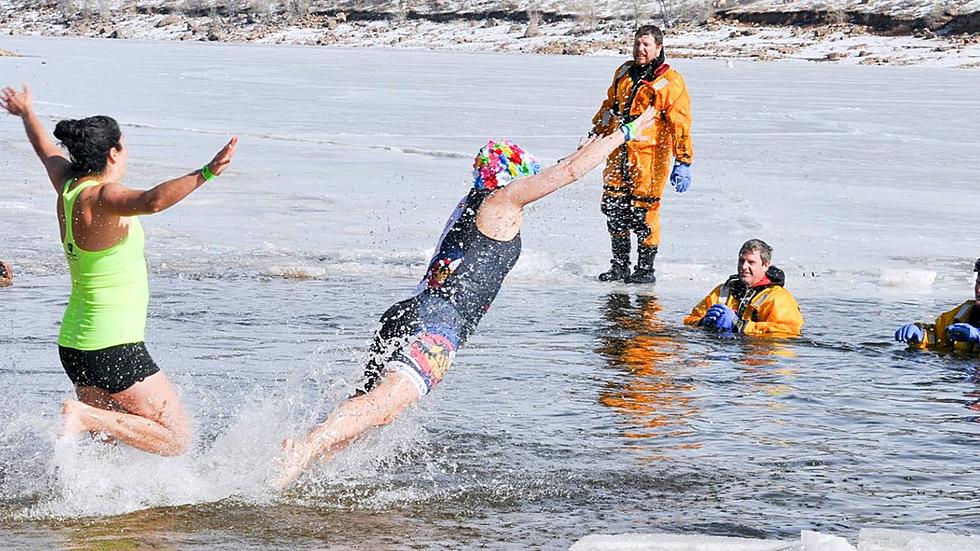 Feeling Brave? Jump Into the Horsetooth Polar Plunge and Run
Facebook/Green Events
The south bay swim beach at Horsetooth is going to feel like the south pole to those brave enough to plunge into the freezing waters for a great cause.
'Brave' often rides the line between 'courageous' and 'crazy,' but 'fun' is also a word that's used when it comes to the Horsetooth Polar Bear Run and Plunge. The event boasts that over 1,500 people have braved the waters since its inception.
The event, held on Saturday, January 22, 2022, benefits the Larimer County Dive Rescue Team (LCDRT,) whose mission is the rescue and/or recovery of people and property involved in water-related accidents. LCDRT currently has a GoFundMe campaign underway to acquire a new truck, so this is a great way to help them stay afloat.
The day begins with a 5K run at 10 a.m. followed by the plunge at 11 a.m. until 2 p.m. Groups of 3-5 people will jump into the very, very cold water under the watchful eyes of LCDRT.
I think back to when I did my first, and only (so far), Horsetooth Half (marathon). That was in April, and it snowed that morning. We parked over at the Holiday Twin Drive-In and walked over in our running shoes, which got soaked in cold water. That seemed pretty brutal at the time. Of course, after the run started, things warmed up.
I can't imagine how piercingly cold you must feel when plunging into Horsetooth, but I'll bet it does give you a sense of accomplishment when you're done, much like it did when I finished that half-marathon.
It sounds like they'll have doughnuts and soups for after the event, but you are asked to bring your own towels and a change of clothes. Unless, of course, you're 'brave' enough to remain in your freezing plunge attire.
Think you have what it takes? Get signed up!
Warm Up With Valentine's Day Events in Loveland
Loveland is called 'The Sweetheart City' for good reason: It's famous for its Valentine re-mailing program and how the city celebrates love. The 2022 celebration plans hit you right in the heart.
Horsetooth is Great Part of Colorado - Check Out These 25 Things That Make Coloradans, Coloradans
More From Townsquare Fort Collins