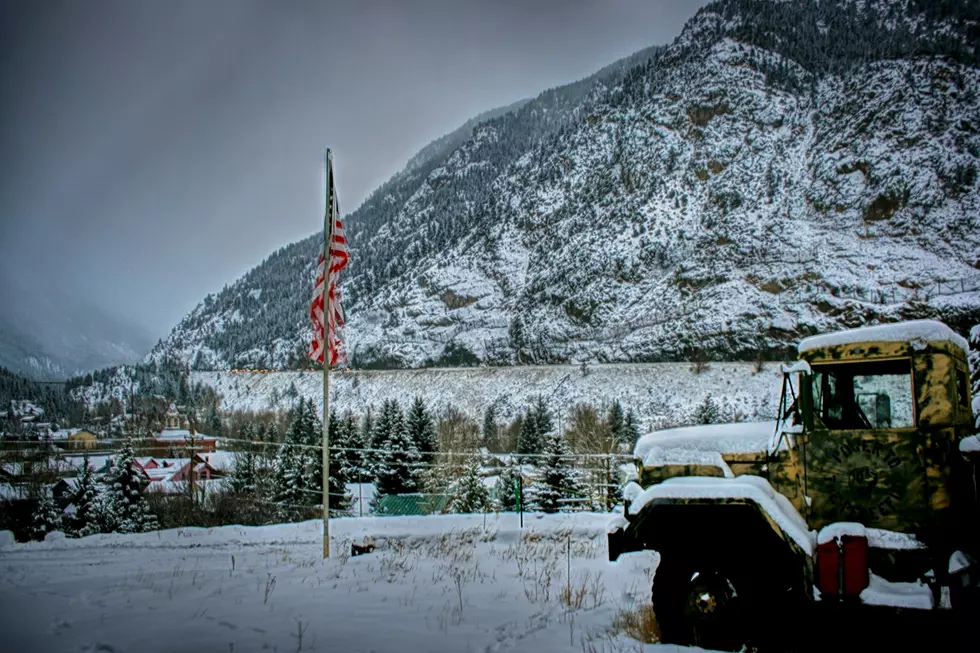 Take a Step Back in Time in this Historic Colorado Town
Michael J. Lichens/Unsplash
Colorado's rich and rugged western history can still be seen in many different spots around the state. From abandoned mining towns to world-famous local landmarks and gravesites, many pieces of Colorado's past have been preserved for years to come.
Georgetown, Colorado is one of those unique places in the Centennial State where visitors are immediately transported back in time. Upon exiting I-70 and entering the historic Clear Creek community, travelers are met with a vintage vibe and feelings of nostalgia.
During the late 19th century, Georgetown started as a small mining camp, that eventually evolved into a thriving mining community made up of approximately 10,000 residents. Prospectors flocked to the area with their families in search of silver and gold. Nowadays, it's considered to be semi-abandoned, with only about 1,000 people left living there.
Despite its small size, Georgetown is one of the most well-preserved mining communities from the 1800s.
For example, a timber post office is still standing downtown and continues to operate to this day.
The bright blue building is a pristine example of an old-fashioned United States post office. It's getting rarer and rarer to see mailing centers with this traditional format and architecture, as many have either been torn down or modernized over time. Georgetown's antique post office is located at 700 Sixth Street.
Another well-preserved historic landmark found in Georgetown is the Hotel De Paris.
It was 1875 when Louis Dupuy established the world-famous French inn. Travelers near and far heard about the high-class atmosphere the Hotel De Paris had to offer, resulting in a heavy demand for rooms. A sophisticated French restaurant inside the hotel was also a major selling point. Guests raved about the lodge in Georgetown and wanted to experience it for themselves.
The once-lavish Hotel De Paris has since been turned into a museum, giving tourists in modern times the chance to take a trip down memory lane. More than 7,000 artifacts and original furnishings fill the spacious interior, making it an authentic relic of the Old West.
The Hotel De Paris also has a reputation as being haunted. There have been many sightings of spirits and other paranormal activity documented from inside the hotel. The building is located just up the road from the post office, at 409 Sixth Street.
One of Colorado's most photographed homes can be found in the heart of historic Georgetown.

Located at 409 Fourth Street, the Frank Maxwell House is considered by many people to be one of the finest examples of residential architecture from the Victorian era. The beautiful home got its name from Frank Maxwell, a mining engineer and one of the first surveyors for Georgetown in the 1880s. Construction began on the dwelling in 1870, and Maxwell purchased it in 1895.
According to the Denver Public Library, the Second Empire-style house is quite eclectic. It includes a French mansard roof on the left of the façade, Italianate windows, Greek Revival pediments, and Queen Anne patterned shingles on the tower over the porch and entrance on the right. A wood and metal fence runs in front of the house.

Maxwell lived inside the bold abode for more than 50 years. After his death in the 1930s, a professor and his wife moved into the Maxwell House. They put much effort into repainting the home with its original colors, a soft rosy "Georgetown pink" and maroon and brown accents.
In the summertime, it's common to see an artist painting a rendition of the stately structure from an easel across the street. A sign out front provides a brief description of the Victorian residence for those walking by.
While tourists can't go inside the Frank Maxwell House, another downtown dwelling is occasionally open to the public. Located at 305 Argentine Street, Hamill House is a restored Gothic Revival structure with period furnishings and historic exhibits. It was originally built in 1867.
Guided tours of the Hamill House Museum are offered, giving visitors a glimpse of how a residential home in Colorado during the 19th century would have looked. People can also rent out this vintage building for private events and parties.
The Georgetown Loop Railroad is another significant piece of history in town.
This legendary narrow gauge railroad was completed in 1884 and train rides continue to take place through Colorado's mountainous terrain today. Climb aboard and explore the Rocky Mountains like they did back in the 1800s. Beginning at 1520 Argentine Street, the old-time steam locomotive chugs its way up the canyon, past the remains of several gold and silver mines.
Take a quick virtual tour of Georgetown, courtesy of YouTuber Derelict Doug down below.
History buffs might also enjoy visiting some of these historic railroad sites throughout the state too.
Historic Railroad Sites in Colorado
These former railroad structures are still standing in various parts of Colorado.
More From Townsquare Fort Collins